New Team Registration for CAHL 2015 Summer Season
Posted By: Admin
Tuesday, March 31, 2015
---
Conflict for Air Superiority
Posted By: Admin
Monday, March 16, 2015
---
Valkyries vs. Dragons on Fri, Mar 13, 2015
A combined total of seventeen winged warriors contributed points for both sides in this conflict for air
superiority between the aerial Valkyries and the flying Dragons as the Valkyries were led by #12
Miraan Patel and #0 Adam Carefoot who had 4 points apiece as #13 Long Le was close behind
with three points. #26 Brandon Pircey, #9 Jesen Richard, #68 David Stadnik, and #66 Cole
Arsenault each had two point nights while #4 Gareth Broad, #92 Brandon Egli, #65 Patrick Egli,
and #19 Spencer Egli each finished with a setup for the Valkyries.
The Dragons were driven by the quintuple combination of #5 Mike Lam, #14 Long Truong,
#3 Dwight Efford, #25 Alvin Chim, and #69 Curtis Lodhar. Lam and Truong each sniped in a
goal as the trio of Efford, Chim, and Lodhar fired the score setting passes.
Boxscore | Share: CAHL on Facebook | CAHL on Twitter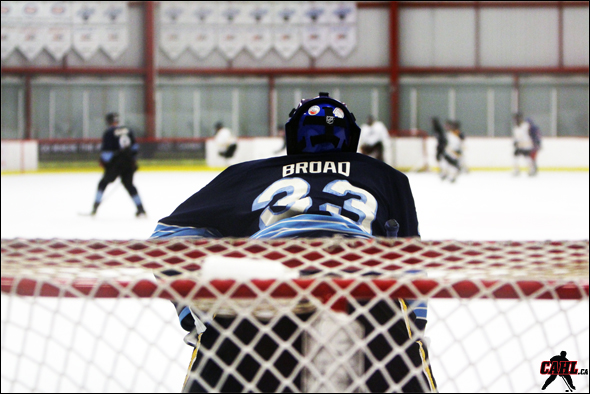 The Valkyries goaltender #33 Wayne Broad watches over his winged warriors and is ready for any
attack as his team's last line of defence.
The 10 year Dragons veteran #6 Davin Johnsrud oversees the scoring chance after he rifles a pass
to set up his teammates.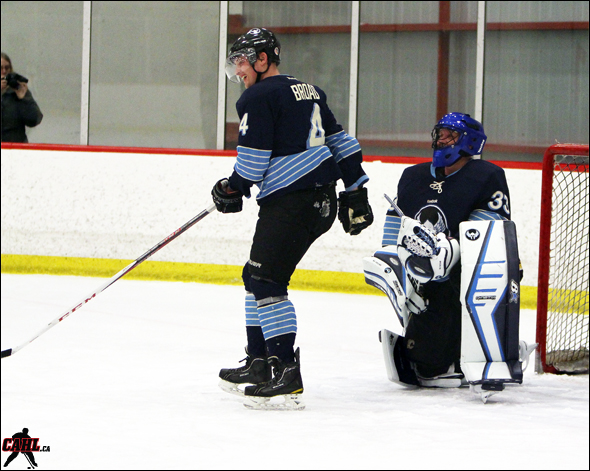 The Broad brothers #4 Gareth Broad and #33 Wayne Broad share a laugh as Mrs. Broad
captures the moment.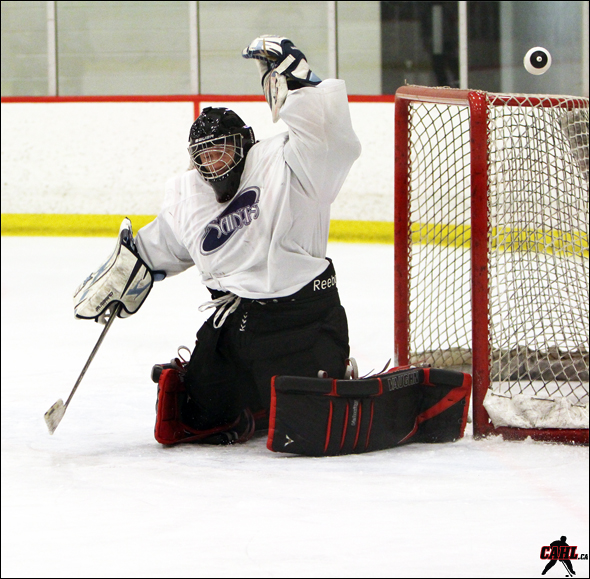 The Dragons goalie #0 Albert Wong makes a valiant effort to stop the perfectly placed water bottle
popping top corner shot by the Valkyries #26 Brandon Pircey.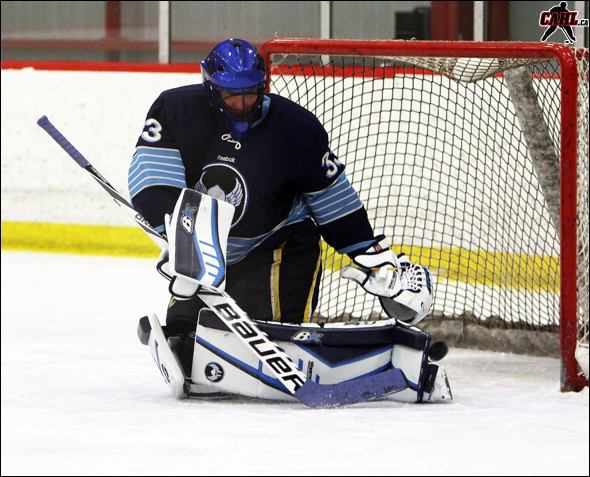 Sporting the brand new Brian's G-NETik Pro II custom Valkyries logo gear #33 Wayne Broad denies
this scoring chance during the opening period.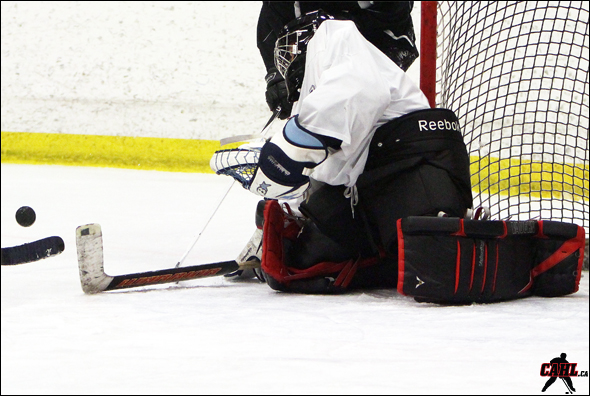 Goaltender #0 Albert Wong makes an excellent save right at the doorstep for the Dragons in the
second period.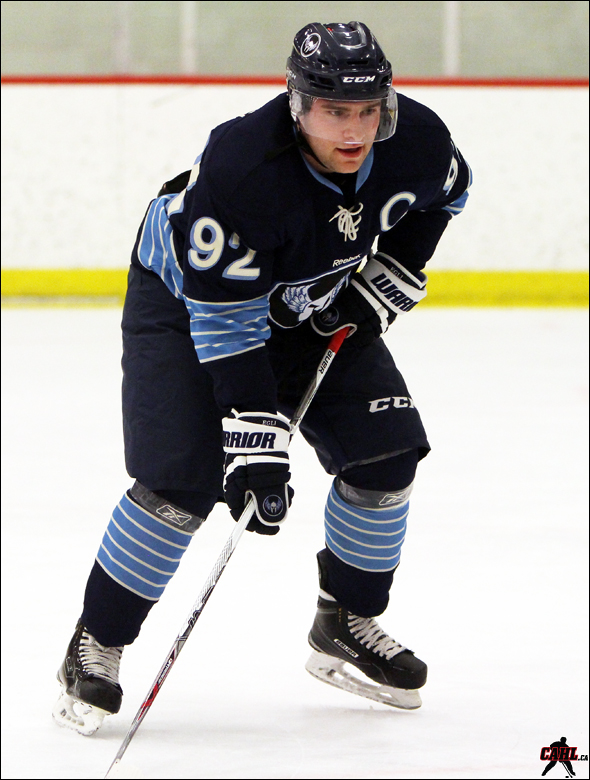 The Valkyries captain #92 Brandon Egli is ready to lead the way as he eyes for the puck drop.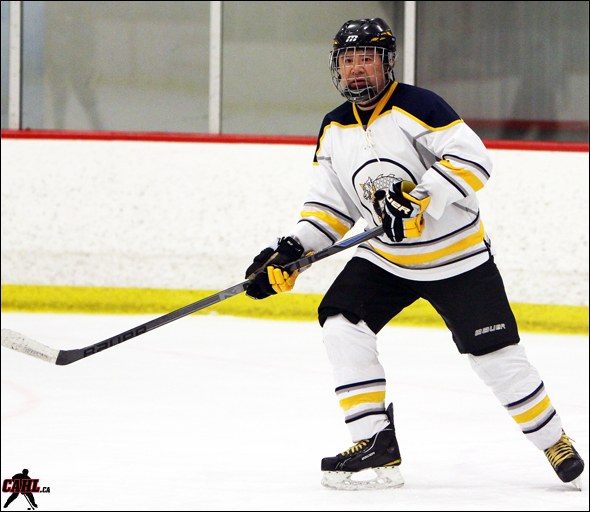 The Dragons #5 Mike Lam scans the play as he is about to charge into battle for his teammates.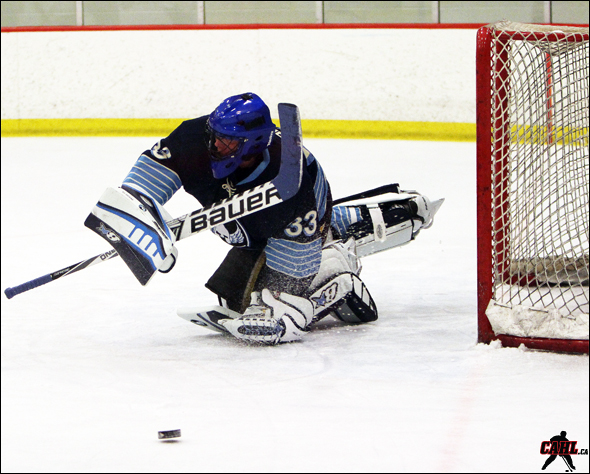 Goalie #33 Wayne Broad knocks away the puck and some snow in the process for the Valkyries.
Epic Offensive Battle Between Lizard and Mammal
Posted By: Admin
Friday, March 06, 2015
---
The Dragons vs. Calgary Moose on Thu, Mar 5, 2015
It was an epic offensive battle between lizard and mammal with amazing goals and highlight reel
saves totaling a combined output of 17 goals and 31 assists as the Calgary Moose won 10-7 over
The Dragons.
The Calgary Moose were energized by #90 David Scherer who lead the team with a tremendous four
goals and an assist. #21 Rob Meijer had a immense five point night as well with two goals and
three setups. There was even a third great five point man, #20 Jackson Cornelius, who scored and
added four assists. #8 Brent Flipsen aced a pair of goals and helpers while #10 Patrick Gillies' all
four points were because of his sharp passing skills. #97 Jon Cuneo finished with a goal and two
assists for a strong three point performance as teammate #91 Drew Braclay dished out a goal
enabling feed as well.
The Dragons #14 Ryan Stewart assisted on all but one of his team's goals to complete the match
with an exceptional six points. Teammate #21 Andrew Hill hit the remarkable five point plateau too
with a couple of goals and three assists. Next up was #12 Calvin Schoeman with a special two goal
and two helper effort. #19 Aaron Mah had two big scores as well while #8 Kevin Kwan also hit the
back of the mesh. #16 Brandon Kwong, #4 Brandon Stewart, and #11 Chris Chow each set up a
goal apiece.
Extra Photos | Boxscore | Share: CAHL on Facebook | CAHL on Twitter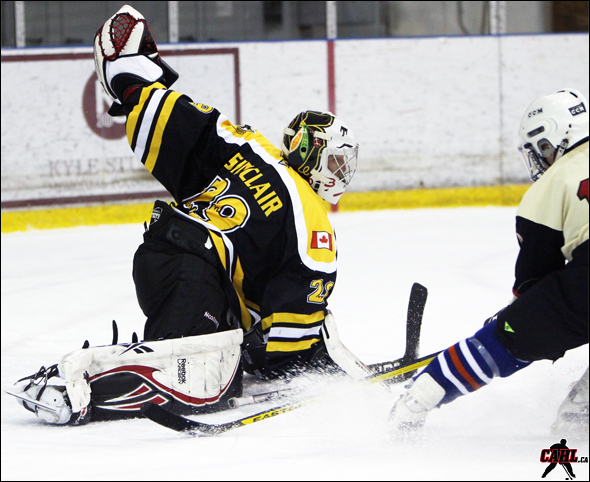 The ice goes flying as the Calgary Moose goaltender #29 Tyrell Sinclair denies #15 Mike Louie on
this great scoring chance.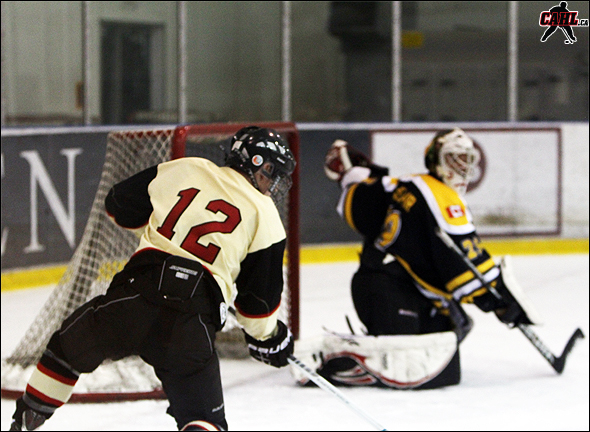 The Dragons #12 Calvin Schoeman snipes this sharp angle goal on a pinpoint pass from teammate
#14 Ryan Stewart.
The Dragons goalie #31 Ethan Mann makes an incredible pad stack save to halt #91 Drew
Braclay's big third period scoring opportunity.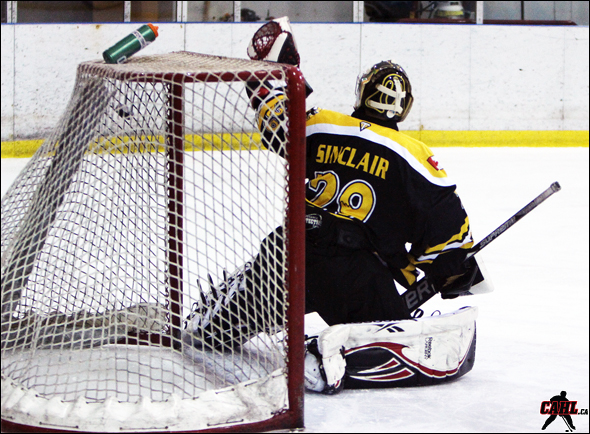 The Gatorade bottle goes soaring into the air as The Dragons #21 Andrew Hill fires in a perfect top
corner goal.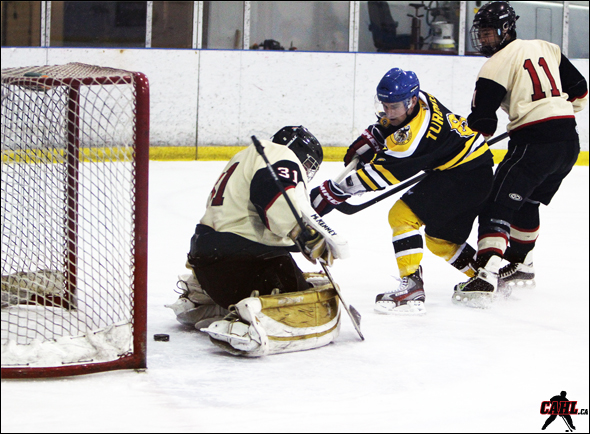 The Calgary Moose #8 Brent Flipsen scores a spectacular goal after he split the pair of defencemen
with a toe drag deke to give his team a four goal lead in the middle period.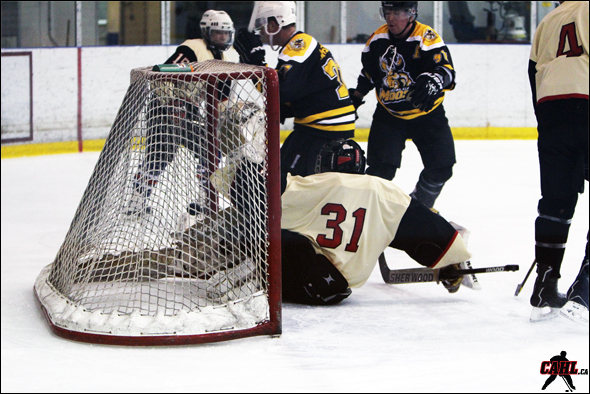 The Calgary Moose #21 Rob Meijer scores his team leading 33rd goal of the season on a great
setup from #90 David Scherer to open up the second period scoring.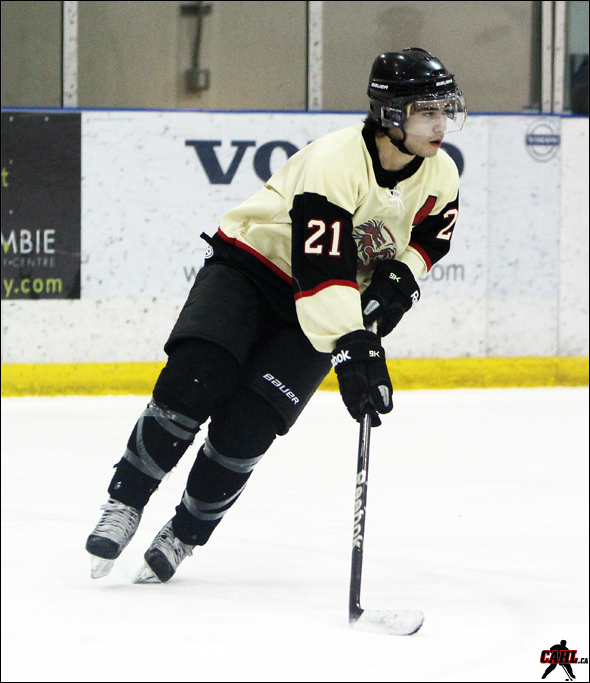 #21 Andrew Hill corrals the puck as he starts speeding up the ice to lead the assault for his
Dragons.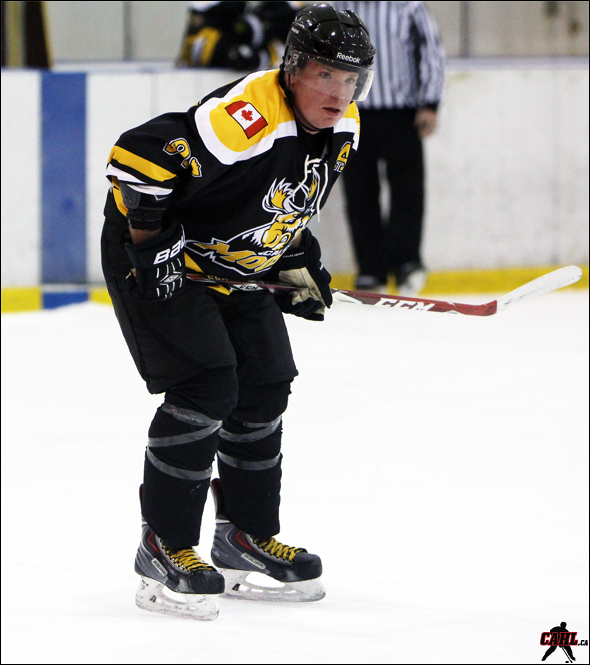 The Calgary Moose alternate captain #97 Jon Cuneo is ready for combat as he awaits the faceoff.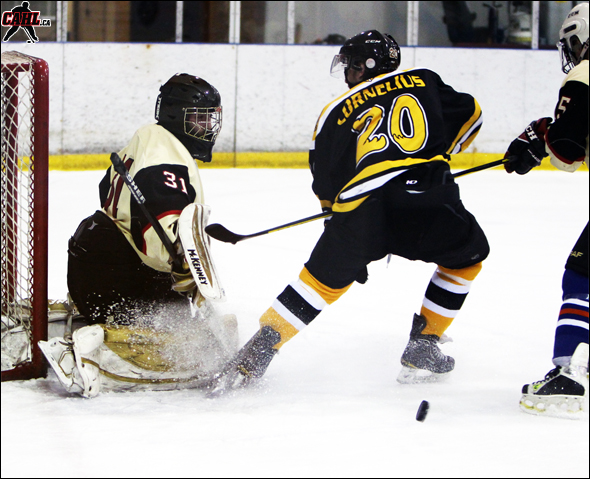 The Dragons goaltender #31 Ethan Mann thwarts another golden scoring chance this time by #20
Jackson Cornelius with some help from #15 Mike Louie.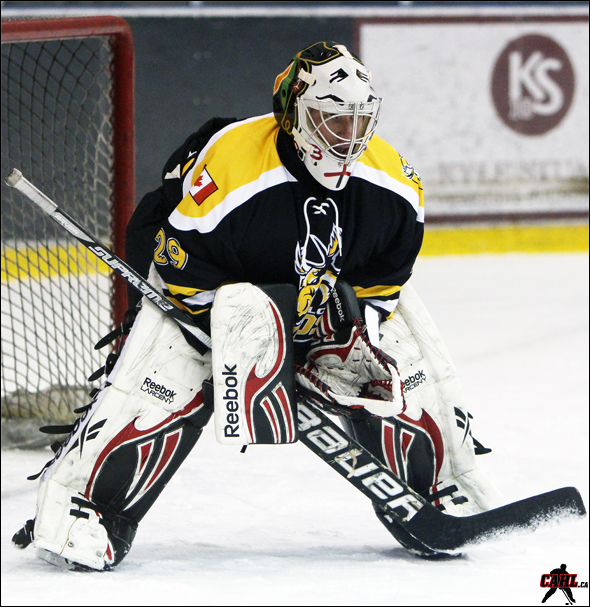 The Calgary Moose backstop #29 Tyrell Sinclair prepares to face anything The Dragons may throw
at him.
CAHL 2014-2015 League Leaders